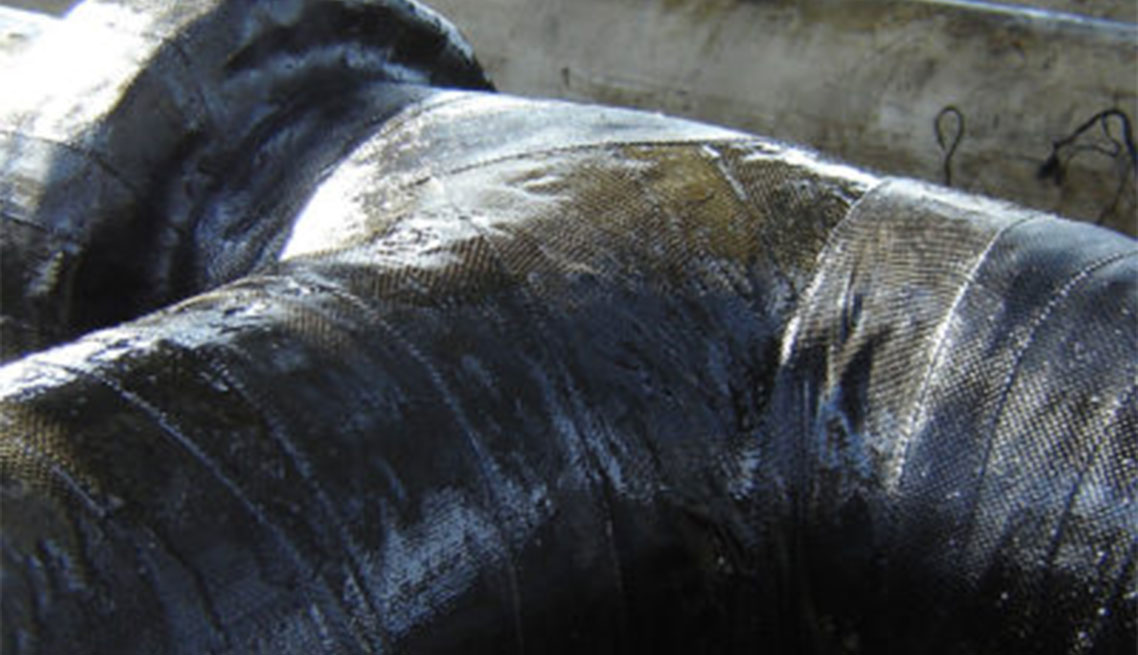 DiamondWrap® is an engineered, wet-applied repair system made of proprietary carbon fiber cloth applied with a two-part epoxy and a high-modulus filler material. It functions as a pressure-containing repair to seal leaks and as a reinforcing repair to restore original pipe strength in both the hoop and axial directions.
As a superior alternative to clamps and pipe replacement, DiamondWrap® is used regularly in plants, refineries, tank farms, terminals, and offshore locations around the globe and is ideal for complicated geometry, such as tees, flanges, and varying diameter pipe. It repairs through-wall defects and installs easily in challenging environments where there is complicated pipe architecture.
DiamondWrap® can be installed with minimal disruption to the operation of a pipe, without the use of hot work. It has an exceptional track record in situations where internal corrosion caused by harsh chemicals threatens the integrity of high-consequence piping, and it is proven to have excellent chemical resistance in the event of substrate failure.
The proprietary epoxies developed for use with DiamondWrap® are unmatched in range, quality, and performance. Specialty epoxies appropriate for high-temperature systems and acid systems that carry harsh chemicals include DiamondWrap® HTA™ and Diamond-Wrap® UHT™.
Features
Superior alternative to clamps
All pipe sizes – No limit
Straight length, fittings, vessels
Compatible with carbon, stainless, alloys, PVC, fiberglass and more
High pressure – Low profile
High corrosion resistance
Low cost – Long service life
DiamondWrap® Series 100% solids epoxy systems for chemical resistance
Benefits
Eliminates unplanned down time for high-consequence piping
Extends the life of aging and corroding assets
No pipe cutting or welding
Minimal creep ensures a long service life
No VOCs
Prevents future external corrosion
Applications
Process piping
Straight lengths of pipe
Elbows, tees, valves, fittings
Subsea pipelines, risers, and piping systems
Request Product Sheet