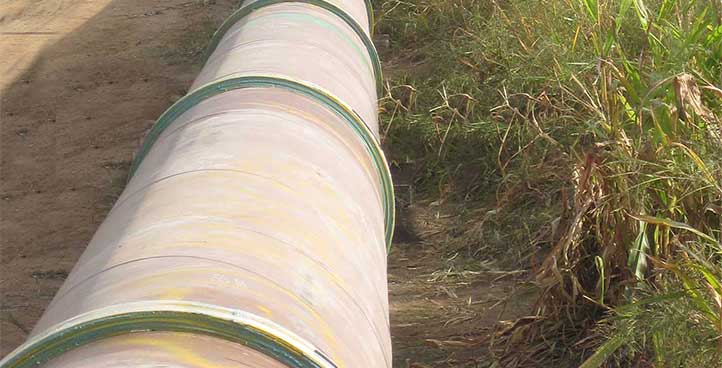 REDUCE CONSTRUCTION TIME, FUTURE MAINTENANCE COSTS
The CSNRI Casing Spacer is a unidirectional fiberglass sleeve sized for a specific pipe diameter to center pipe in casings during installations under roads, at river and railroad crossings, and in downhole applications. Casing Spacers are an extremely robust solution that eliminates traditional integrity issues that can occur when pipes are pulled through casings, protecting the pipe from damage and reducing construction time and future maintenance costs.
A methylmethacrylate based adhesive with high lap shear strength keeps the Casing Spacer secure and mechanically bonds the coil to the carrier pipe. Field applications take less than fifteen minutes, and due to the rapid cure profile of the adhesive, the pipe is ready to pull within two hours of installation. Any abrasion during the pipe pull occurs at the outer layer of the sleeve instead of the coating of the carrier pipe.
The adhesive used to install the Casing Spacer is formulated to be applied by brush, roller, or spray and provides excellent resistance to aqueous chemicals, vibration, and shock at service temperatures to 180°F (82°C). When combined at a 10:1 ratio, the adhesive has a working time of 20-25 minutes and achieves 75% of ultimate strength in only 40 to 45 minutes. A Casing Spacer can be field installed and cured in two hours.
Features
Pretensioned unidirectional fiberglass sleeve sized for a specific pipe diameter
Methylmethacrylate based adhesive with high lap shear strength keeps the Casing Spacer secure
Achieves 75% of ultimate strength in 40-45 minutes, even below 32°F (0°C)
Installs and cures in two hours
Full scale testing shows upper bound strength of more than 14,000 lbf
Benefits
Limits movement of pipe at the ends of casing
Acts as a bumper for wave action on cased pipe
Reduces pulling friction
Eliminates coating wear
Minimizes deflection
Provides electrical insulation
Conforms tightly to pipe
Slides into place with ease
Installs without disrupting operations
No special tools to install
No environmental hazards
No hot work
Applications
Horizontal Directional Drilling (HDD)
Ideal product for multiple pipes in a pull string
Pipe pulls under rivers, roads, and railroad crossings
Request Product Sheet